It's almost time for the kids to go back to school! We want you to be ready to disinfect all the back to school germs that will be coming back home with them. So check out the prize pack from The Libman Company that could help you tackle the job while keeping everything you need in one spot.
The Libman Company knows their way around cleaning products: for over 120 years, the family-owned business has made quality their priority, offering the finest USA-made brooms, brushes, mops, and cleaning tools.
As the summer season rolls out and the Back-to-School season draws near, messes are one thing that won't fade with the seasons. With the Libman Maid Caddy, you can store all of your cleaning supplies conveniently in one place.
The Libman Maid Caddy is a large but lightweight cleaning caddy with special compartments to hold a variety of essential cleaning tools including gloves, brushes, dustpans, sponges, cleaning solutions, dusters and more.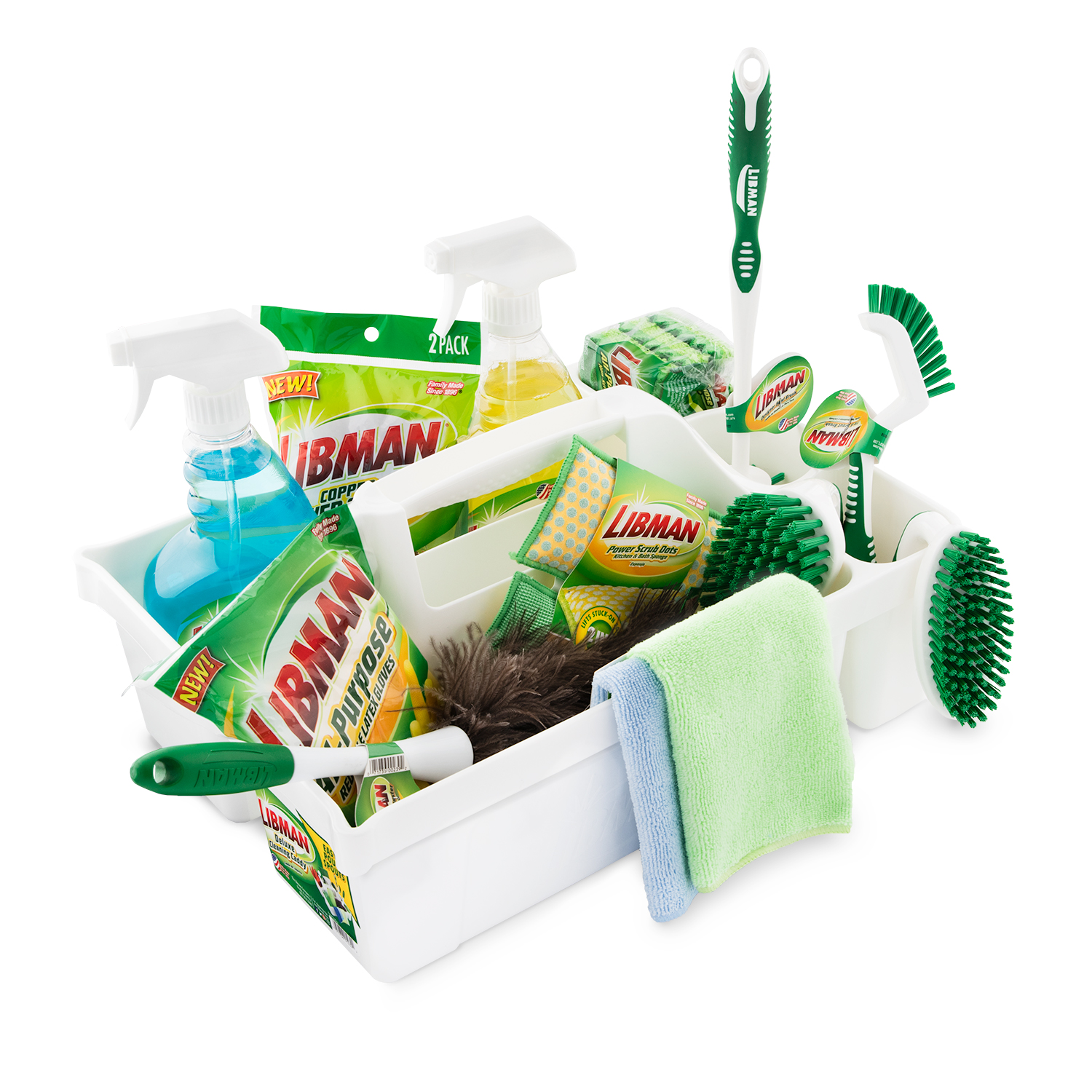 Libman is known for taking common cleaning products and improving them to provide better functionality and ease of use. In the case of the Maid Caddy, Libman has created a solution for consumers looking for not only a convenient way to store their frequently used cleaning tools together, but also one that offers them a portable solution when house cleaning from room to room.
The Libman Maid Caddy has an open design that can fit a wide array of items, including up to six 32oz. bottles. There are numerous compartments as well as a special compartment for a toilet brush.
Made of a one piece polypropylene mold that won't crack, the Libman Maid Caddy is lightweight at 1.75 pounds and measures 16 inches x 11.5 inches. The Maid Caddy is equipped with pour spouts on one end to create a "mini-bucket."
The unit has a riveted handle grip to make carrying it from room to room a cinch. Once, the user is finished cleaning, the Maid Caddy can be stored under the sink or in a mud or laundry room.
The Libman Maid Caddy has a suggested retail price of $9.97 and is available at Home Depot and Kroger stores across the U.S. For more information about Libman and its products, visit www.libman.com.
Enter to Win a Libman
Back to School Prize Pack!
The Libman Back to School Giveaway Features a Libman Maid Caddy full of the following Libman products:
Deluxe Cleaning Caddy | All-Purpose Reusable Latex Gloves | Feather Duster | Power Scrub Dots Kitchen & Bath Sponge | Designer Bowl Brush | Copper Power Scrub | Power Scrub Brush | Tile & Grout Brush | Small Scrub Brush | All-Purpose Non-Scratch Sponges | Glass & Mirror Cleaner | All-Purpose Cleaner | Everyday Dusting Cloths
Visit www.libman.com for more cleaning tips.
ENTER TO WIN!
One (1) lucky reader will receive a Libman Back to School Prize Pack!
The giveaway is open to residents 18 years and older that reside within the United States.
The giveaway ends 8/16/2019 at 11:59pm EST.
Be sure to come back daily for more chances to win. [Read more…]