Remembered when all we did as a child was be outside?
Now days it is hard to get our kids out to play when they have any type of device. Even though they maybe time limited our kids are just not excited about the outdoors anymore. With THiNK OUTSiDE Boxes are a monthly subscription service focused on outdoor exploration AND a year-long curriculum. The service provides quality, useful gear along with very thoughtful activities and educational information that encourage kids to get outside and play. It is not just about the gear or the information, but using both in tandem to become more skilled in outdoor life, while encouraging family involvement. The monthly themed boxes promote character building while instilling confidence, independence, and empathy.
FACT: Today's children are spending an average of 4-7 MINUTES of unstructured play outside, and 7.5 HOURS in front of devices!
THiNK OUTSiDE is a 2019 Parent's Choice Silver Award recipient!
What's Inside THiNK OUTSiDE Boxes? Throughout the year, each themed monthly box includes outdoor gear, water-resistant resource cards, a 20+ page educational & activity booklet, as well as an outdoor challenge to do as a family. Your first box comes with a lightweight packable daypack. You can choose your color orange, blue, or magenta!
EDUCATIONAL RESOURCES!!
THiNK OUTSiDE boxes foster a learning experience that encourages critical and strategic thinking, creativity, and outdoor life skills. The hands-on lessons are everything a homeschooling family could hope for when teaching/learning STEM. They even offer curriculum resources to accompany their boxes too! Visit THiNK OUTSiDE to preview the seasonally appropriate lesson plans.
Visit THiNK OUTSiDE to learn more and subscribe today!
Use the code
10OFF

to receive $10 off your into box!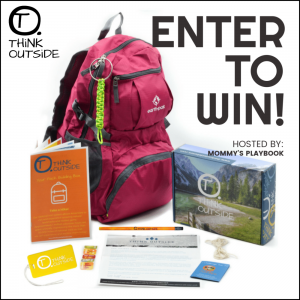 ENTER TO WIN a Quarterly Subscription to THiNK OUTSiDE!
The giveaway is open residents 18 years and older that reside within the United States.
The giveaway ends 5/10/2019 at 11:59 pm EST.
Be sure to come back daily for more chances to win.