Geoffrey Zakarian #ProForHome Sous Vide Circulator Giveaway!
Delicious Meals Made Easy and Cooked To Perfection Every Time
Ends 4/04/18 @Viatek @gzchef
This post contains affiliate links and I may make a small commission used to support this blog if the item is ordered via the link provided within this post.
Deliciously Savvy is hosting a giveaway in which one (1) lucky winner will receive a Geoffrey Zakarian Pro for home Sous Vide circulator of their very Own! RV is $130! If you have no tried the Sous Vide cooking method yet ….. I promise you will love it. You can get create delicious results every time!
Check Out My Review And Enter To Win One Of Your Very Own Today!
Sponsored By:

Hosted By:
Co-Hosted By:

And Now The Sponsor & The Details:

One (1) Lucky Winner Will receive a Geoffrey Zakarian Pro For Home Sous Vide Circulator Of Their Very Own $130 RV
Zakarian Pro for Home Sous Vide Circulator Stick with 15 Zippered Cooking Bags Discover perfectly cooked, flavorful food like you've never known before. Sealing your food into a zippered plastic bag prevents loss of flavor during the cooking process; combine that with an accurately regulated water temperature and you're cooking "sous vide." Thanks to Chef Zakarian, you, too, can retain all the delicious, moist flavor your food has to offer with this intuitive sous vide stick. It's not just for fancy restaurants anymore. What You Get Sous vide stick Adjustable ring clamp 5 Small zippered cooking bags 10 Large zippered cooking bags User's manual with 22 recipes. Features Sous vide cooking Delivers accurately cooked, flavorful food consistently Food is sealed in a zipper-style plastic bag, placed into a water bath and cooked via the sous vide stick Brings water to a controlled temperature and circulates it around your food for consistent, even cooking Versatile, foolproof cooking Takes the worry out of cooking expensive proteins such as steak and fish Helps tenderize tough cuts of meat Never overcook a meal again Great for cooking for a crowd Compact design Easy to store Zippered plastic bags Comes with 5 small and 10 large zipper-style cooking bags for convenience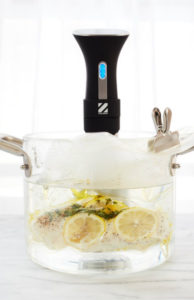 ~~~~~~~~~~~~

Giveaway Dates: 3/04/2018 9PM EST and runs until 4/04/2018 at 11:59 PM EST
Entrants must be 18 years old to enter and giveaway is open to United States residents only.
Good Luck! Enter Below