If you love candles then this giveaway if for you!
Travel through the country this summer without ever leaving your home! Chi Candle's Evocative collection takes you across the USA and places in the world. Travel through the Cowboy State with their custom blend of evocative scents reminiscent of campfire, cedar, sandalwood with a touch of musk, or amber. Each candle's scent is based on a state's tree, flower, fruit, or even rivers, lakes, and mountains!
To go along with the memorable scents the evocative candles are named based on a certain characteristic of each state too. For example, Midnight Sun for Alaska, and Sunshine Beach for Florida.
About Chi Candles:
Each candle is hand poured by Chi Candle in California with 100% soy wax. Chi Candle's soy wax candles provide you with a clean burn and arrive in an apothecary inspired amber glass jar, with a beautiful brass lid. With Chi Candles, you can trust that each candle contains NO phthalates, dyes, or preservatives. Estimated burn time for each candle is 60-65 hours.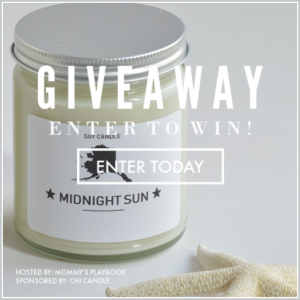 ENTER TO WIN!
One (1) lucky reader will win three (3) Evocative Candles from Chi Candle in the scent you like best!
The giveaway is open to residents 18 years and older of the United States.
The giveaway will end on 6/27/2019 at 11:59pm EST.
Be sure to come back daily for more chances to win. [Read more…]